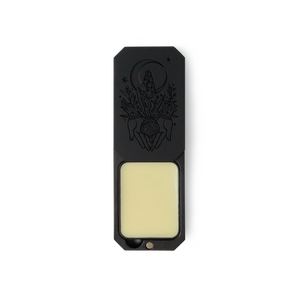 Oaken * Somethings to Keep
Solid Perfume - Hyacinth
Sale price Price 499.000,00 Regular price
Tax included.
Oaken * Somethings To Keep Collaboration
Solid Perfume - Hyacinth 
Floriography Triptych Vol. 2: Hyacinth
Beneath the moon's gentle light, we cultivate hyacinth, with its subtle elegance flourishing as a fragrant embodiment of love's unspoken eloquence. Blending with the warm embrace of massoia, the scent reveals a narrative of understated passion, an ode to nature's quiet beauty and the secrets it carries under the night sky.
Notes: Hyacinth, Neroli, Green Stems, Tree Moss, Massoia Bark, Vetiver
About the collaboration
Oaken & Somethings to Keep joined in the exploration of Floriography, the art of communication through flowers. Rose, Hyacinth, and Poppy inspired scents and illustrations that tell their own whimsical stories. The result is a triptych of limited edition solid perfume cases, elegantly illustrated by Varsam of Somethings to Keep, along with three distinctly different floral fragrances by Oaken.
Package includes:
Limited Edition solid perfume case with illustration by Somethings to Keep
Leather sleeve
1 Solid Perfume Insert 3g
Ingredients: Euphorbia Cerifera Cera (Candelilla wax), Cetearyl alcohol, Fragrance, Simmondsia Chinensis (Jojoba) Seed Oil, Isopropyl Myristate
Instructions: Insert refill into solid perfume case. Rub a small amount of solid perfume directly on skin. In case of adverse reaction, discontinue use immediately.
Vegan formula Handmade in Indonesia