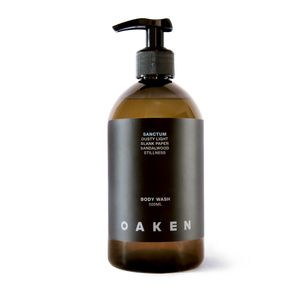 Body Wash - Sanctum
Sale price Price 299.000,00 Regular price
Tax included.
Aroma: Dusty Light, Blank Paper, Sandalwood, Stillness
Sanctum is a representation of the places that bring solace, evoke a sense of calming stillness or spark contemplation and introspection. A space in which the architectural details and light vibrate with spirituality, a sanctuary for personal healing, the perfect spot to be lost in your thoughts.
Notes of: Translucent Jasmine, Dry Bergamot, Rose, Paper, Sandalwood, Benzoine, Virginia Cedarwood and Patchouli
Size: 500ml
Our new body wash is full of skin nourishing natural oils that create a luxurious, silky lather. 
Instructions: Apply to the entire body while showering or bathing using a washcloth or sponge of your choice. Rinse thoroughly. 
Ingredients: Coconut (Cocos Nucifera) Oil , Castor Oil , Olive Oil , Purified Water , Sodium Lauryl Sulfate , Glycerine , Lye , Elaeis Guineensis Oil , Sea Salt , & Fragrance Oil 
For external use only. In case of adverse reaction, discontinue use immediately.
* PLEASE NOTE: due to shipping regulations, this product is currently available for domestic Indonesian orders only. International shipping is only available for non-liquid products such as Shaving Soap and Hardware.