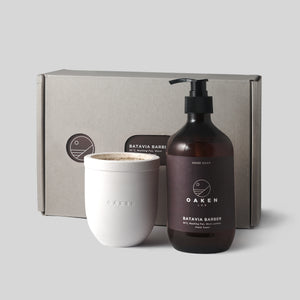 Hand Soap & Candle set - Batavia Barber
Sale price Price 649.000,00 Regular price
Tax included.
Immerse yourself in your favourite Oaken scent with one of our Hand Soap & Candle sets.
This set features our Batavia Barber scented candle in a hand made ceramic container, along with our matching Batavia Barber hand soap (500ml). 

Batavia Barber:
Aroma: 32ºC, Rustling Fan, Worn Leather, Fresh Towel
Notes of: Neroli, Bergamot, Orange, Lavender, Jasmine, Moss, Musk, Patchouli, Leather
* PLEASE NOTE: due to shipping regulations, this product is currently available for domestic Indonesian orders only. International shipping is only available for non-liquid products such as Shaving Soap and Hardware.