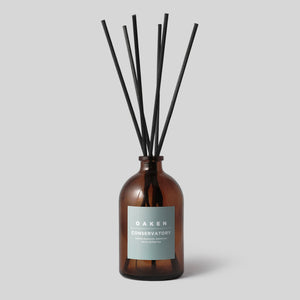 Reed Diffuser - Conservatory
Sale price Price 299.000,00 Regular price
Tax included.
Aroma: Delicate Botanicals, Greenhouse, Neroli, Rolling fog
Notes: Basil, Orange Peel, Bergamot, Neroli, Rose, Cedar, Sumatran Benzoin, Ambergris, Patchouli, Cassia
Oaken Lab Reed Diffusers are a wonderful way to scent your small to medium sized spaces. Place it on an office desk, a bathroom vanity, or bookshelf to create a subtle scent experience.
Comes with 1 diffuser bottle (100ml) and 8 reed sticks.
Instructions: Insert sticks into the diffuser bottle. To increase the scent strength, flip the sticks so the wet side is now on top.