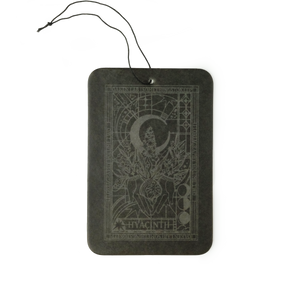 Oaken * Somethings to Keep
Scent Tag - Hyacinth
Sale price Price 99.000,00 Regular price
Tax included.
Oaken * Somethings To Keep Collaboration
Scent Tag - Hyacinth 
Floriography Triptych Vol. 2: Hyacinth
Beneath the moon's gentle light, we cultivate hyacinth, with its subtle elegance flourishing as a fragrant embodiment of love's unspoken eloquence. Blending with the warm embrace of massoia, the scent reveals a narrative of understated passion, an ode to nature's quiet beauty and the secrets it carries under the night sky.
Notes: Hyacinth, Neroli, Green Stems, Tree Moss, Massoia Bark, Vetiver
About the collaboration
Oaken & Somethings to Keep joined in the exploration of Floriography, the art of communication through flowers. Rose, Hyacinth, and Poppy inspired scents and illustrations that tell their own whimsical stories. The result is a triptych of limited edition solid perfume cases, elegantly illustrated by Varsam of Somethings to Keep, along with three distinctly different floral fragrances by Oaken.
Package includes 1 paper scent tag
Instructions: Hang scent tag in any small, enclosed space such as a car or closet. Avoid hanging in direct sunlight or in in front of heavy airflow. May stain porous or sensitive surfaces.